From Blog
Corona Pandemic in South Asia
Fatima Shabbir (Intern at IRS)
---
As the second wave of COVID-19 has hit the globe, there is a spike in cases throughout the world and same is the case with South Asia. Even though there is a rise in cases in South Asia, according to the number of biweekly cases per million people, cases in South Asia are comparatively less than that of Europe and US. In both Europe and the United States, the number of biweekly cases per million people are 2,000 to 3,000, whereas in South Asia it is 100 to 500.
However, there are a number of reasons behind the increase in the number of cases in South Asia. The first and foremost reason behind the increase in cases is poverty. Most of the population cannot afford either the test or the treatment facilities. Similarly, most are daily wagers, who suffered a lot during lockdowns. They had no other option but to step out of their houses for the sake of their livelihoods. The second issue multiplying the cases is low level of education as the people do not understand the intensity of the issue and act irresponsibly towards it. Another reason that intensifies the issue is our local customs like shaking hands, hugging, etc. while greeting, which prevents social distancing. Despite awareness, social distancing is also not being practised at places of worship.
The state structure of all the countries in South Asia has a limited capacity in dealing with the pandemic. Keeping in mind the economic status, each and every state has faced problems during the lockdown economically and cannot further afford shutting down the institutions. Even though the government in Pakistan shifted education online, most of the students do not have access to internet, which is resulting in their loss of studies. Moreover, there is a lack of testing and quarantine facilities as well as medical insufficiencies.
The highest percentage of confirmed cases in South Asia is of Maldives; 2.4% of the total population of the country is affected by COVID-19. The second and third in line are Nepal and India, with the percentage of confirmed cases at 0.79% and 0.7% of the total population, respectively. On the other hand, 0.28% of total population of Bangladesh is affected by COVID-19. Then come Pakistan and Sri Lanka, with the affected percentage of population of 0.12% and 0.1% of the total population, respectively. Lastly, Bhutan, being the only successful country by far in South Asia to contain COVID-19, has only 410 confirmed cases which makes 0.05% of the total population of the country.
All the South Asian countries are trying their best to contain the spread of COVID-19 by introducing various preventive measures. In late October, Pakistan officially announced a second wave with a rise in daily cases and deaths. Authorities imposed new restrictions, making masks mandatory and restricting public gatherings. Government of Pakistan, Ministry of National Health Services Regulation and Coordination has issued guidelines on 4 November 2020 regarding 'Testing Strategy' incorporating COVID-19 Antigen Detection Rapid Diagnostic Tests (AG-RDT). Pakistan's current testing strategy for coronavirus detection is based on RT PCR, which is predominant across the world since the pandemic's outburst. AG-RDT, a new testing strategy, has proved its effectiveness for disease mapping, so Pakistan has considered its inclusion in its testing strategy for disease surveillance and screening. The AG-RDT test will be cheaper and easy to use as compared to RT PCR tests and the time duration of the test results will also be quite low. But the only drawback suspected is its moderate sensitivity as compared to RT PCR. One of the reasons behind the increase in Pakistan's cases is also that the testing has increased since September.
Other guidelines issued to the aviation authorities and crew on 18 November 2020 regarding international passengers arriving at airports in Pakistan, is for the identification and management of suspected COVID-19 carriers, so as to reduce the risk of its spread. Furthermore, on 27 November 2020, additional guidelines were issued regarding wedding events and ceremonies. These guidelines supersede the ones previous issued on 10 October 2020 and are being implemented in urban centres of 16 cities of Pakistan, prohibiting indoor gatherings. Outdoor wedding events are only allowed with the restriction of 300 guests, strictly observing the SOPs, especially wearing of mask by every guest and maintaining a social distance of 6 feet. The duration of the event is also restricted to 2 hours with closure evening time at 10 pm.
Pakistan is among the first countries to implement school closures as a result of COVID-19. On 23 November 2020, the federal government announced the closure of all educational institutions from 26 November 2020 to 10 January 2021 with continuation of online classes till 24 December 2020. Smart lockdown is also observed of specific residential areas where cases are on the rise including different government institutions. The National Command and Operation Centre (NCOC) has launched a WhatsApp number for the registration of COVID-19 related violations by the public like non-wearing of masks, non-adherence of social distancing, and overcrowding at public places. However, current fatality rate is higher in Pakistan than other South Asian countries, which is very alarming.
Similarly, Indian government is also fighting the battle against COVID-19 by implementing the world-wide containment strategies of identifying and tracing the disease through PCR test and Point-of-Care molecular diagnostic assays, following the SOPs and other health advisories. In addition, some states of India have begum the pool testing. Hydroxychloroquine is being recommended for the personnel and front-line workers handling COVID-19 cases, while its combination with azithromycin is being prescribed to serious patients. India has also launched 'Arogya Setu' a mobile application for tracking the movement of citizens to spread awareness amongst the common public and India also commenced Convalescent Plasma therapy. Furthermore, India has successfully developed a COVID-19 vaccine, 'Covaxin' that has inoculated around 631,417 people within four days through an initiative known as 'vaccination drive'. India, being the 'Pharmacy of the World' has also become the exporter of its locally produced vaccine and its first shipment has been sent to Bhutan while vaccines will be shipped on Tuesday to Bangladesh, Maldives, Myanmar, Nepal and Seychelles. However, Covaxin ran into controversy after the Indian government permitted its use without disclosing concrete data showing its effectiveness in preventing COVID-19 and also giving clearance for emergency use in a clinical trial mode.
On the other hand, Bangladesh was testing over 18,000 suspected cases a day in June but the testing number saw a downfall due to the increase of testing fee in July by the government. There has also been a scandal of the sale of fake negative test certificates.
Moreover, Sri Lanka witnessed a spike in October after two clusters were found in a garment factory and in the wholesale fish market due to leniency in lockdown just two weeks after the restrictions were lifted. Other clusters were detected in police service and in prison. The Mayor of Colombo called for further lockdown.
Unlike the rest of the South Asian countries, WHO appreciated Bhutan government's performance in dealing with COVID-19 as 'commendable'. The credit goes to their three leaders: their King, their Prime Minister, and their Health Minister, as well as their good management of COVID-19 precautionary measures and their speedy actions related to timely diagnosis and its treatment. Free tests and free quarantine facilities encouraged the people to come forward which resulted in a high rate of testing. Compliance with government directives by the citizens and their cooperation due to their high level of trust in the government helped in containing the virus in Bhutan. They have a strong belief in managing COVID-19 as a civic responsibility. Community strength greatly helped in effective COVID-19 response.
Bhutan developed a 'Druk Trace' application to help surveillance teams to trace and contact confirmed cases. Bhutan is hoping to reopen tourism early next year around February or March 2021. Bhutan has collaborated with its neighbour India to participate in the clinical trial for COVID-19 vaccine and is among the first countries to receive the vaccine from India. Five mental health hotlines have been established for counselling purposes and handling the mental health issues. The small population of Bhutan has made it easier to enforce national strategies to curb COVID-19. India donated important PPEs, medicines, and vital testing kits as a friendship gesture. Buddhists' believe that their traditional communal values, specifically the daily prayers and their fortune, the decisive and collective leadership explains Bhutan's success in battling COVID-19.
UNICEF has delivered 46 laptops and 5,000 PCR test kits to the Maldives government to enhance the capacity of their Health Emergency Operation Centre (HEOC) leading to the national efforts to contain COVID_19 pandemic. The health personnel were working in the challenging conditions of limited staff and lack of computers. The donated computers are being used for the critical work of 17 crucial working groups that include the Rapid Response Team (RRT), call centre, contact tracing, media and communication, medical supplies, and planning and coordination.
The Government of Nepal (GoN) has decided to bear all the expenses of COVID-19 patients in all government-owned hospitals throughout the country including testing and treatment after the Supreme Court orders. International land borders of Nepal with China and India will remain close till further orders but reopens for tourists coming by air. Schools in least affected areas are gradually reopening following strict SOPs after their Chhath festival of 20 November 202, as decided by the Ministry of Education, Science and Technology (MoEST). At present 44 government laboratories are functional in the country along with 32 privately owned labs. The GoN has also approved the proposal of using COVID-19 vaccine in the country. According to the Ministry of Health and Population (MoHP) half of the active cases of COVID-19 are currently home isolated.
The Nepal government has issued a circular to all local governments to collect data on the number of youths who have been forced to return home due to the pandemic to formulate an action plan by the Ministry of Finance for their self-employment and job creation within the country. Government has authorized local authorities to impose lockdown within their jurisdictions. Most businesses like stores, restaurants etc. Have resumed their operations but tourists who have been in Nepal for 150 days or more are required to vacate the country till 15 December 2020. Limited commercial flight service has resumed. Government has also announced penalty for failure to wear mask outdoors.
However, according to a report which measured the fatality rate of South Asia due to the COVID-19 pandemic, Bangladesh's fatality rate was the highest initially but recently Pakistan's fatality rate is the highest at 2%. The second in line is India with 1.5% fatality rate, which has decreased from 3.4%. Then comes Bangladesh with 1.4%, Nepal with 0.6%, Sri Lanka with 0.5%, Maldives with 0.4%, and lastly Bhutan with remarkably consistent 0% fatality rate. The graph below shows the strictness of government policies during COVID-19.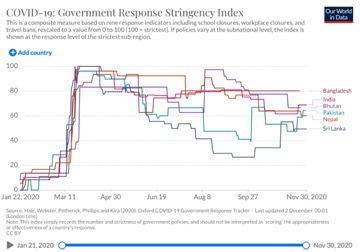 It is evident that each of the South Asian country has dealt with the pandemic individually but the biggest problem is that there is no unified approach to deal with the pandemic in the region. This is very important for the region because it borders with China and Iran which were the 2 epicentres of the pandemic at the start of the year. There has to be a regional approach to deal with it but it does not exist because of intense rivalry between Pakistan and India. SAARC at the same point has proved to be ineffective to deal with the pandemic as President Modi called a meeting to set up an emergency fund and this initiative was not taken seriously as there is lack of effective leadership.
It is interesting to note that COVID-19 pandemic can only be contained through strict implementation of the SOPs and the cooperation of general public as seen in the case of Bhutan government and its citizens. All the individual countries will keep on working to cater this pandemic on their own but to eradicate it, a regional approach is necessary because if there is no regional approach each of the country will deal with it according to their abilities but won't be able to eradicate it. During the second wave, cases have not reached the previous peak but this time general public needs to play their part and act responsibly in order to save themselves from corona pandemic. The confirmed cases are however lower than actual cases as the main reason is the limited testing and challenges attributed to the cause of death. Now let's see what the future holds as the experts say that herd immunity of the world can be achieved at 43%.