Contemporary Regional Developments in Bhutan
23rd - 29th January
A New Town being built in Bhutan: The project to develop a new town is slowly taking shape after more than a decade of planning works. As per the new Bumthang town planning, Chamkhar, Dekiling and Jalikhar have been identified as the three Local Area Plans (LAP).
(The Bhutanese Express)
Increasing number of vehicle poses threat to Bhutan's pristine environment : as Bhutan opens up to modernization, the number of vehicles and pollution level are increasing, whereby threatening the small Himalayan country's pristine environment. Bhutan with a population of about 700,000 has reported having more than 92,008 vehicles in total, as per the latest report by the Road Safety and Transport Authority (RSTA). This has been increase from more than 40,532 vehicles in 2008.
(Xinhua 29.1.2018)
16th - 22nd January
India sets up special committee to address Bhutan's Cross Border Trade in Electricity guidelines CBTE concerns; In what could be an important development for Bhutan's hydropower sector, the Indian government has set up a special taskforce committee headed by the Power Secretary of India to address Bhutan's concerns over its Cross Border Trade in Electricity guidelines (CBTE). The committee was set up on 29th December 2017 and is expected to present its report and recommendations by the end of February 2018.
India is keeping a hawk eye on the continuing presence of Chinese troops and their construction activities in north Doklam near the Sikkim-Bhutan-Tibet trijunction, even as Army chief General Bipin Rawat said bilateral bonhomie had returned to the same level that existed before the 73-day troop faceoff in the region last year. The Indian security establishment believes People's Liberation Army (PLA) soldiers may return in "greater numbers" to the Doklam area (the Dolam Plateau).
8th - 15th January
Bhutan, India celebrate 50 years of diplomatic relations: His Majesty the Third Druk Gyalpo Jigme Dorji Wangchuck said. "the friendship between India and Bhutan is solid as a rock and I have no doubt will always remain so. It's not only geographical proximity but mutual love and friendship that has kept us close to each other. Nothing is more valuable than mutual friendship and love."
His Majesty the Third Druk Gyalpo Jigme Dorji Wangchuck, cemented the relations with India in February 1968. Fifty years later, in a grand ceremony marked with traditional songs and dances, the two foreign ministers unveiled a special logo to commemorate the Golden Jubilee of the establishment of diplomatic relations between the two countries through a videoconference. Indian external affairs minister Sushma Swaraj said that India-Bhutan relation is built on shared values and priorities, utmost trust and understanding, mutual respect and sensitivity to each other's interests.
1st - 7th January
Corruption in Ministry of Labour and Human Resources: The government said that it has requested the office of the Anti-Corruption Commission (ACC) to undertake an immediate and full investigation into the various training programs of the Ministry of Labour and Human Resources. The Press release says, "the investigation has been requested based on the several informal complaints received by the Office of the Prime Minister on possible incidences of corruption and collusion by the Ministry of Labour and Human Resources, particularly in awarding contracts relating to trainings in India and Japan.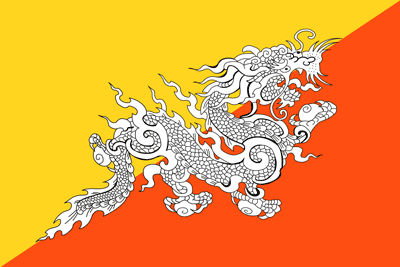 Archives