News Updates
25th July - 1st August
All set for upcoming election, says DPT
The Druk Phuensum Tshogpa (DPT) says it is all set to contest the upcoming election. All 47 candidates have been finalized and the drafting of its manifesto is in the final stages.
These were revealed at the party's General Assembly held in Thimphu yesterday. "We have started preparing our manifesto around four to five months back. Around ten committees have been formed and they are in the final stages of drafting the manifesto," Dorji Wangdi, DPT's Media Spokesperson, shared. The party shared their experiences as the ruling party from 2008 to 2013 and later as the opposition at the General Assembly.
The members also shared their concerns over the country's increasing trade deficit and crime among others.
If elected, DPT says, addressing youth unemployment will become a top priority. "Our manifesto will be centered on resolving youth unemployment, ensuring every youth gets a job, and also uplifting the economic livelihood of the rural people," Media Spokesperson Dorji Wangdi said.
Other priority areas include resolving social problems and issues related to women.
It will also focus on rural and urban development, and achieving national goals. (Bhutanese Express: 31.7.2018)
15th July - 24th July
China Minister arrives in Bhutan on first top-level visit after Doklam. (The Indian Express: 23.7.2018)
10th July - 13th July
Bhutan PM's Rare Remarks on China; India's 'Soft Power'; Duterte's Delhi Outburst: Every year, Bhutan's prime minister gets up in the middle of the year to present the annual report of his government to the parliament as stipulated in the constitution. This year, was no different. For Tshering Tobgay, it was his sixth and last 'state of the union' speech before the National Assembly is dissolved in August. With an eye on the elections, the focus of Tobgay's speech on June 30 was improvement in the economy during the 11th five year plan, which coincided with his tenure. As expected, the report also dwelled on Bhutan's foreign policy with the aim of "protecting our sovereignty and security to ensure that we remain independent for all times to comes," he said. After the customary reference to excellent relations to India, Tobgay then came to China. India obviously gets multiple mentions in the annual reports due to multi-layered ties, but the current prime minister has also referred to China in five out of six speeches delivered to Bhutanese parliament since 2013. It usually follows a template of a statement about Bhutan's "warm" relations with China, followed by the latest update on boundary talks. This formula was also followed this year, but with significant difference. "Our relations with China, the second largest economy in the world and an emerging global power is increasing and we continue to maintain peaceful and cordial relations," said Tobgay. On the border talks, he noted, "24 rounds of boundary discussions have been held so far and both sides are committed to finding a mutually beneficial solution." This was, of course, the first annual report following the 72-day-long standoff between Indian and Chinese troops on Doklam region claimed by Bhutan in 2017. Tobgay ended this section with a noteworthy sentence: "The government continues to take a strategic long-term view of our engagement with China to ensure that our national interests are secured." This comment on Bhutan-China relations was striking, since mentions about the northern neighbour have been boilerplate in previous speeches.(The wire: 10.7.2018)
3rd July- 10 July
Bhutan's PM visited India: Lyonchhen Tshering Tobgay and his delegation concluded the three-day official visit to India and returned on July 7. Lyonchhen said that the visit was 'very fruitful' and the talks with Indian leaders on a wide range of issues were positive.
"I'm fully satisfied with the outcome of the visit," Lyonchhen said.
While in India, Lyonchhen called on Prime Minister Narendra Modi and the Indian President Ram Nath Kovind. He also met the foreign minister Shushma Swaraj, and ministers for Finance and Railways, and Power.
On the final day, Lyonchhen met the president of the Indian National Congress Rahul Gandhi.
Some of the outcomes from the visit were India's reassurance that it will continue to support Bhutan's socioeconomic development in the 12th Plan, continued cooperation in hydropower sector, and the assurance that a fair or mutually agreed power tariff for the 720-megawatt Mangdechhu hydropower project, among others.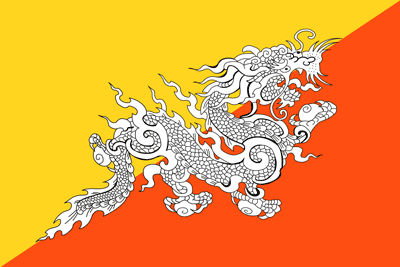 Credit: Maryam Mastoor
Archives