Regional Studies
Abstracts - Winter 2021
ROLE OF RELIGION IN BOLSTERING STATE POWER: POLITICAL IMPORTANCE OF ISLAM IN PAKISTAN AND BANGLADESH
ZUNAIRA INAM KHAN
The histories of Pakistan and Bangladesh are rife with the misuse of religion to bolster political power and gain legitimacy. Although it managed to confer temporary legitimacy that kept these regimes propped up, in the long run, the use of religion has only managed to weaken state power if defined in terms of the robustness of state institutions. While large scale Islamisation has been attempted in Pakistan, its history in Bangladesh has been largely tampered because of cultural constraints which give competing definitions of nationalism and state ideology. Even though religion has been used in myriad ways to confer legitimacy upon regimes and to prop them, it has not led to greater power of the state. The use of religion in this way, especially by dictatorial and authoritarian regimes, has only masked the tensions and problems that exist within the state apparatus and society while not doing much to strengthen democratic state institutions.
jmp
MILITARY RULE IN MYANMAR: THROUGH THE LANDSCAPE OF AUTHORITARIAN POWER CONSOLIDATION
AL AMIN AND RABEYA BOSRI CHANDNI
Military government in Myanmar is often considered most durable and powerful military rule in the world. Since 1962, the Junta has been ruling the country facing a lot of internal and external challenges and succeeded to consolidate its rule under various titles (Burma Socialist Programme Party , State Law and Order Restoration Council, and State Peace and Development Council) until 2011. This paper attempts to find out the distinctive factors that contributed to the military's ability to prolong its rule using authoritarian regime consolidation theory. It argues that the junta had strengthened its regime by applying a series of management policies such as establishing patronage network with different civilian sections of people, emphasising national ideology, directing coercive mechanism against anti-government forces, launching educational propaganda, applying media censorship, establishing a monopoly of power under a self-written Constitution, receiving external aid and assistance, etc. It is wholly a qualitative work based on secondary data sources and follows the historical and content analysis approach.
jmp
PROSPECTS OF MIDDLE EASTERN QUAD AND ITS IMPLICATIONS FOR PAKISTAN
SYED FRAZ HUSSAIN NAQVI
In the contemporary international environment, the US has been exhausted financially in its prolonged wars in Afghanistan and Iraq. Furthermore, the Afghan and Iraq debacles, i.e., the fall of Kabul and political instability in Iraq, have also cost the US its prestige. For its compensation, the US is now involved in consensus-based network arrangements which have two prominent features. First is the US attempt to enable its allies in economic and military domains to formulate their own regional security framework. This will help the US in minimizing its own war cost. Second is the shift from multilateralism to minilateralism (i.e., region specific) which will converge the threat perceptions of the US with that of the regional states towards framing the mutual threat or challenge. The US initiative in the Middle East, dubbed as Quad 2.0, is the practical manifestation of its aforementioned policy. Middle Eastern Quad, comprises of US, India, Israel, and the UAE is yet to get formal recognition, nevertheless, its anti-China outlook is apparent. For Pakistan, this development is of utmost attention for two reasons, i.e., Pakistan's inherent interests in the Middle East and India's participation in the Middle Eastern security framework. This paper attempts to explore the probability or improbability of Quad 2.0 and to analyse its possible implications on Pakistan through open source secondary research.
RISE OF HINDUTVA AS A CREED: ITS IMPACT ON INDIA'S POLITICS AND SOCIETY
AMNA EJAZ RAFI AND ISHTIAQ ALI MEHKRI
The Hindutva ideology is taking a toll on all walks of national life in India. The current resurging of Hindutva-based socio-political discrimination has its roots in the historic RSS doctrine, which has adversely impacted the Nehruvian concept of secular India, turning it into a collage of ghettos of innumerable communities and faiths of people living in world's largest democracy. This study examines how the rise of Hindutva-based political exigency has affected Indian nationhood and torn its social and communal fabric.
INDIA'S INROADS INTO THE MIDDLE EAST: IMPLICATIONS FOR PAKISTAN
LARAIB FARHAT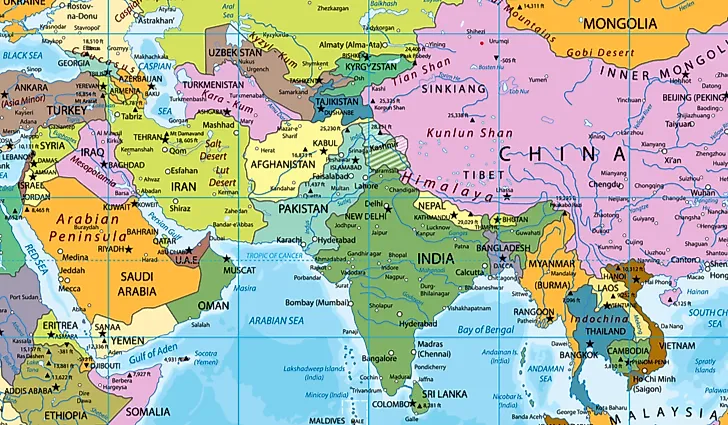 India is a strategic player in global politics; more like an octopus, with its arms stretched towards other regional players, either for cooperation or competition. Thus, its inclination toward the Middle East is driven by a similar intent. Its preference in the gulf has been mostly navigated by two things, i.e., exporting labour and importing oil. The huge Indian diaspora in the region is a living proof of that which has resultantly become a major driver behind India's growing economy. Consequently, India's long-term investments and strong economic relations in the Middle East can be explained given its expat population. It is noteworthy that Indian interest in the region is driven by the vision of amplifying its economic might rather than exercising it. To achieve that, it withholds the focus of its foreign policy vis a vis three key players—Saudi Arabia, Iran, and Israel. However, the strategic tilt towards the Middle East has not alienated India's historical rival rather its inroads into the Middle East appear to be a multi-dimensional approach inclusive of Pakistan. The basic aim of India's strategy is to strengthen its relations in the Gulf region and engage in counter-narrative diplomatic engagements that would complicate Pakistan's foreign policy. This paper thus looks into major Indian investments in three key players as aforementioned and unfolds the complex relationship between India, the GCC, and Pakistan.
Download Journal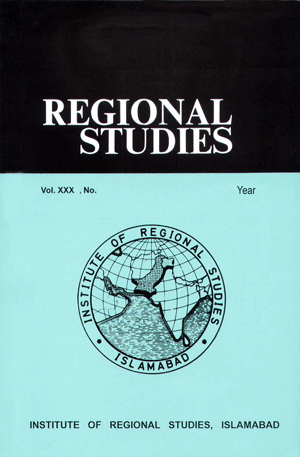 ---
Regional Studies is a quarterly journal. It covers a wide spectrum including foreign and internal affairs, economy and industry, science and technology, sociocultural aspects and security related issues. The countries that fall within the purview of the study are India, Pakistan, Bangladesh, Sri Lanka, Nepal, Maldives in South Asia, Afghanistan, Iran and the Gulf States in Southwest Asia and five republics of Central Asia, beside China and Indian Ocean.