Current Issue
Winter 2018
THE ISLAMIC STATE IN AFGHANISTAN: AN UNCERTAIN FUTURE
AMINA KHAN AND AWAIS ALI SYED
After nearly two decades since the US invasion of Afghanistan, the country continues to wrestle with a plethora of problems. Political instability, deteriorating security, poor governance, unsuccessful peace talks with the Taliban, and the presence of 21 terrorist groups including the Islamic State Khorasan Province (ISKP) continue to haunt Afghanistan's potential for a prosperous future. The official emergence of the ISKP in Afghanistan in 2015 brought with it a set of new challenges for the already war-torn country and complicated the path to peace as they came along with a violent ideology of a global jihad against the Afghan state, the Afghan Taliban, and the population of Afghanistan. The paper aims to critically analyse the ISKP's rise since its emergence under the theoretical framework of the terrorist life cycle under four main categories: emergence, rise, downfall, and demise. The paper argues that despite suffering heavy losses and fighting a war on many fronts, the ISKP has learned to not just survive but thrive in certain aspects in Afghanistan. This has meant that despite several issues the group still continues to oscillate between the emergence and rise phase in the terrorist lifecycle and has yet to enter into the downfall or demise phase.
EXAMINING INDIA'S STRATEGIC CULTURE AND MARITIME DOCTRINAL GROWTH: THE INDO-PACIFIC IN PERSPECTIVE
UMM-E-HABIBA AND MUHAMMAD AZAM KHAN
During much of the Cold War, New Delhi's strategic perceptions remained overwhelmingly land-centric. Maritime thinking and significance of naval power took a secondary spot in the Indian strategic and security perception. A surge in the country's economy and post-9/11 developments rapidly transformed the country's strategic culture. New Delhi placed a renewed focus on naval modernisation, while maritime thinking (strategy and doctrinal growth), as well as blue water naval ambitions, became pronounced. Indian Navy's role changed from mere coastal defence to power projection, at least in documents. This study analyses the burgeoning shift in Indian Navy's ambitions and maritime doctrinal growth in the backdrop of a new geographical construct, i.e., 'the Indo-Pacific'. It argues that although the force envisions itself as a key enabler of maritime power projection, there is a critical mismatch between the stated objectives and demonstrated maritime military potential. This is evident from several major accidents over the past few years and post-Pulwama standoff, which practically validated the void in Indian Navy's stated doctrinal philosophy and real combat potential.
THE ECONOMICS AND POLITICS OF CHINA-PAKISTAN ECONOMIC CORRIDOR AND BALOCHISTAN
MANZOOR AHMED
As part of the enormous new Silk Route project or the One Belt One Road initiative, the governments of Pakistan and China developed a proposal in the mid-2000s to create an economic corridor from Kashgar, Xinjiang, in China to Gwadar, Balochistan, in Pakistan with an aim to promote national, bilateral, and international economic integration. Essentially driven to improve regional and global trade networks, the resulting China-Pakistan Economic Corridor (CPEC) was formally launched in 2013 with the initially planned portfolio of infrastructure, energy, and economic projects worth around $64 billion. Amidst an optimism in Pakistan of CPEC having a transformational effect on the economy, there is an extensive public debate in Pakistan about the potential impact of CPEC on the already troubled economic and political relations between and within the provinces of Pakistan. This debate is further intensified by the continued representation of CPEC by the country's political leadership as an overarching programme of economic cooperation, not just a 'game-changer' but a 'fate-changer', with the potential to address virtually all key longstanding developmental challenges of the country. The principal components of CPEC are Gwadar deep-sea port, Gwadar-Kashgar road and rail infrastructure—that passes through the width and breadth of Balochistan—and establishment of Special Economic Zones (SEZs). It is, therefore, important to analyse the implications of CPEC-related developments on the politics and economics of Balochistan. The SEZs are aiming to boost industrial growth and spur trade in the country and numerous SEZs are planned for Balochistan. The rationale behind these SEZs in Balochistan and elsewhere is to initiate a process of industrialisation. This paper will present how SEZs can potentially affect the economy of Balochistan. While politically Balochistan has been a troubled province with a long history of the estranged relationship with the federation, a relevant point worth investigating is whether CPEC will be a harbinger of a greater economic change (or otherwise) in the province and improve (or further deteriorate) the already tense political situation of Balochistan. The paper offers a contribution in analysing how CPEC can be instrumental in changing the political and economic landscape of Balochistan and how the economic activity proposed under CPEC within the highly volatile political landscape bring any meaningful change to the province.
SOUTH ASIAN SECURITY COMPLEX AND NUCLEAR ARMS RACE
WAQAR HUSSAIN, KHURRAM MAQSOOD AHMAD, AND FAIZ UR REHMAN
South Asian security dynamics are characterised by divergent security goals of India and Pakistan. Pakistan developed nuclear weapons as a power balancer against India, which was at an advantageous position over Pakistan in terms of conventional weaponry and forces. As there exists a balance of power, thanks to the possession of nuclear weapons often referred to as the balance of terror, there is strategic stability in South Asia. However, this strategic stability comes at the expense of continued nuclear armaments and technology development by India and Pakistan. There is a peculiar nature of competition between India and Pakistan, which is different from the Cold War concept of the arms race. The study of historical patterns reveals that Pakistan's nuclear developments are a response to those of India's. On the other hand, Indian nuclear developments are aimed at developing deterrence against China. The result is that as India boosts its nuclear developments to achieve its minimum credible deterrence against China, for Pakistan it no more remains minimum and it has to go for qualitative and quantitative arms build-up. However, this relative pattern of nuclear arms developments is different from the arms race concept of the Cold War, where two great powers spent heavily on arms build-up to achieve hegemony. The strategic stability corresponds to deterrence stability and arms race stability. The purpose of this study is to analyse the trends of nuclear arms development by both India and Pakistan to analyse South Asian security complex characterised by nuclear weapons and foreign alliances. The study also analyses the arms development of India and Pakistan through the concept of the arms race.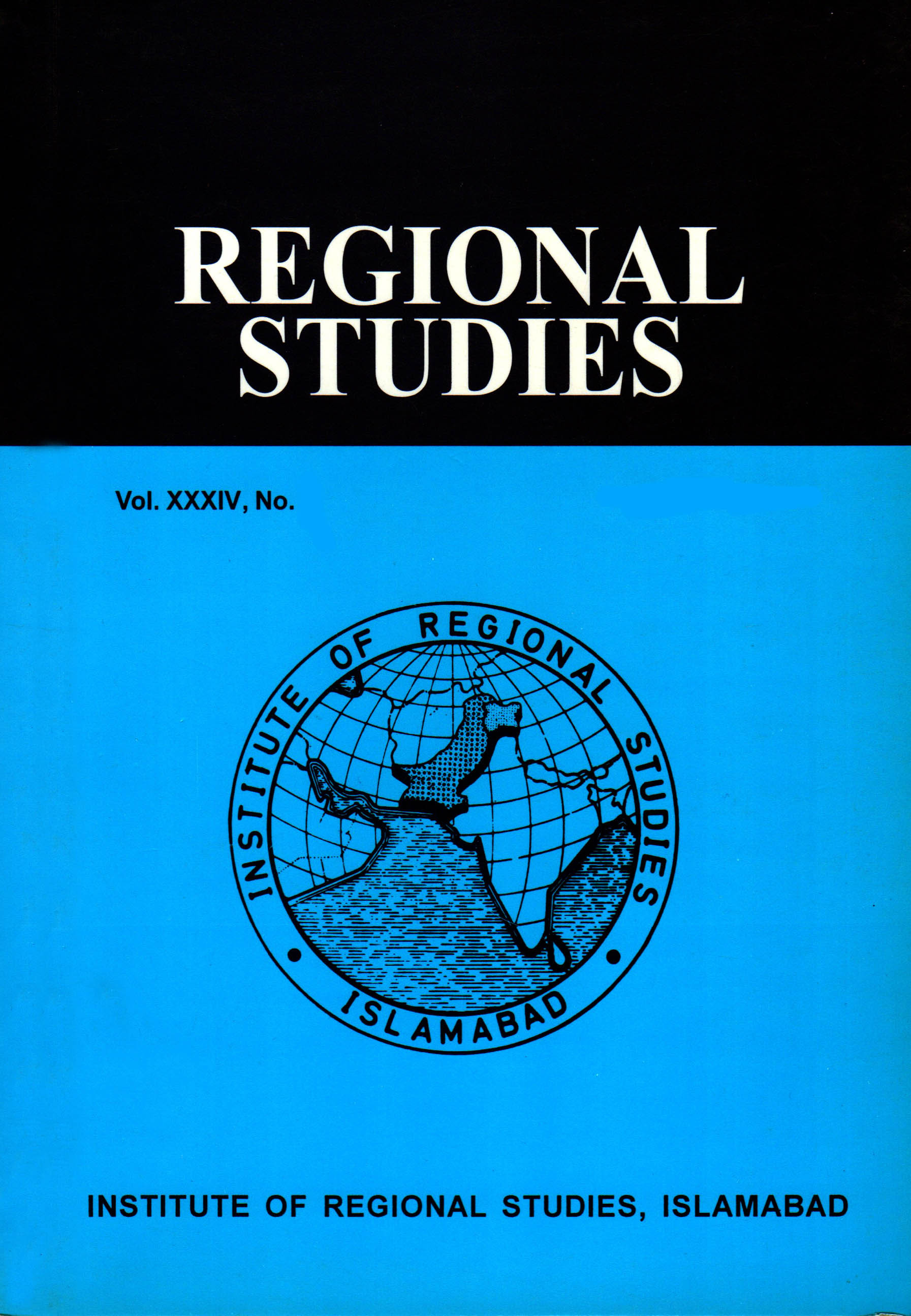 Archive
Quarterly Journal
Regional Studies is a quarterly journal. It is Higher Education Commission Recognized peer-reviewed journal. It covers a wide spectrum including foreign and internal affairs, economy and industry, science and technology, sociocultural aspects and security related issues. The countries that fall within the purview of the study are India, Pakistan, Bangladesh, Sri Lanka, Nepal, Maldives in South Asia, Afghanistan, Iran and the Gulf States in Southwest Asia and five republics of Central Asia, beside China and Indian Ocean.